I had to introduce you to these adorable Chibi creations. They are too cute for words 🙂 I came across this iPhone featuring a chibi girl in a Kimono via Pinterest and followed the link back to the store.
The great thing about all Zazzle items is they can be personalized. As you can see this adorable Chibi Geisha girl iPhone case has a name on it. This can be changed to whatever you need.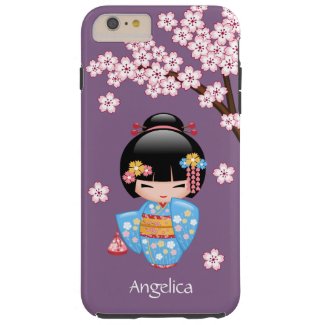 Japanese Maiko Kokeshi Doll Tough iPhone 6 Plus Case
by
Chibibi
See other Maiko Casemate Cases at
zazzle
The designer describes her creation as "an illustration of a cute oriental maiko kokeshi doll in a blue kimono with brightly colored obi (traditional kimono sash) holding a kinchaku (drawstring bag). The girl has colorful flowers and elaborate hairpins in her hair. " Check out her other items below.
Here's a couple of her adorable Chibi Geisha girls on cards.
Japanese Red Sakura Kokeshi Doll Birthday Big Greeting Card by
Chibibi
See other Red Cards at
zazzle